Mission Statement for Driver License, Vehicle Title, Registration and Plates
You have come to the church of the firstborn who are registered in Heaven. Hebrews 12:23

Many of us hear the call to come out of Babylon. We quit participating with the world system, lest we share in her sins and receive of her plagues (Revelation 18:4).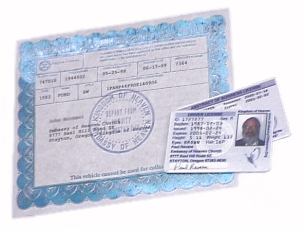 As we examine our connections with the world system, there is one area where we are still linked. That is over driver licenses and vehicle registrations. This seemingly trivial area is not costly in terms of financial outlay. It only costs a few dollars a year to maintain a State driver license. Nor do the burdens seem heavy. Yet, having a State driver license connects us with the world order as <->certainly as a bank account or social security number.

The State driver license and vehicle registration are different from other ties with the world order in one major way. When we do not acquire these items, the system notices - and they are angry. Try driving down the street with no driver license and no license plates on your car. When you are stopped by the police - and it is inevitable that you will be stopped - you will probably go to jail. Why? You cannot show the officer that you have "permission" to use the highways.

If you cannot show the police officer a driver license, he will probably haul you to jail. And you could be tied up in court battles for months. Meanwhile, if you continue driving without permission from a governing authority, you will be stopped by the police and hauled to jail again and again. We know, it happened to us. And it can be frustrating and demoralizing.

Thank God for Jesus Christ who always gives us the victory. He bids us to come follow Him out of the darkness of the world system into His Kingdom, where the burdens are light. Christ's Kingdom of Heaven is the only authorized government upon the earth. All other governments are of the world and are in rebellion to God.

When we become citizens and residents of His government, He provides for our every need. He knows we need to travel upon the highways, preaching the gospel of the Kingdom. To travel by automobile, we need proper driving papers. To answer our need, He has authorized the Embassy of Heaven to issue driver licenses, vehicle certificates of title, vehicle registrations and registration plates to all those who claim residency with Christ's Kingdom. Now we need not prostitute ourselves with foreign governments to obtain driving documents. Heaven meets our need.
Continue to Step

Click here to return to main Vehicle Title, Registration and Plates page