Driver License FAQ
What is the purpose of a Kingdom of Heaven driver license?

The purpose of a Kingdom of Heaven driver license is to identify you as a citizen of Heaven.

Who is eligible for a Kingdom of Heaven license?

Anyone who renounces his allegiance to the governments of the world and believes on Jesus Christ and His government.

State residents are not eligible. If you are a State resident, you are required to obtain your driver license from the State in which you reside.

Where can a Kingdom of Heaven driver license be used?



A Kingdom of Heaven license can be used anywhere identification is required. It works well as picture identification for cashing checks and postal money orders, or for general business transactions such as obtaining refunds at stores or renting items. State law enforcement agencies may not readily accept a Kingdom of Heaven driver license because they do not believe that the Kingdom of Heaven is God's government upon the earth.

What is wrong with having a State driver license?

The State licenses its residents. Licensing is an exercise of authority by the sovereign State. Our sovereign is Jesus Christ. We have been called out of the world to serve Jesus Christ and Him alone. Since our citizenship is in Heaven, and our sovereign is Jesus Christ, we must obtain our documents from Christ's government, not from the State.

I'm interested in a Heaven driver license, but I'm still a state resident. What can I do?

The most important step is to give your allegiance to Jesus Christ and forsake your allegiance to all other nations. Then start coming out of Babylon. Take care of your State obligations. Pay dues to whom dues are owed (Romans 13:7). If you are in debt, pay off your loans as quickly as possible. Owe no man anything but the continuing debt to love one another (Romans 13:8). If you have long-term loans or mortgages, consider selling the property or letting the bank foreclose. If you are burdened
with loans, you are a servant to the lender and are still in bondage. If you can become free, do so.

After paying off your loans, you will no longer need a corporate job. Ask God to lead you to work where you do not need the marks of the beast, such as a social security number and State licenses.



You will also need to withdraw your children from public school and remove the family from any State tax-supported activities. If you wish to partake of public libraries, swimming pools and community colleges, pay nonresident rates.

Not only will you need to separate from State government, you will also need to repent of any areas where you are in disobedience to Christ's commands. Study the New Testament and ask the Holy Spirit to show you any areas of your life that are not in conformity to the Word of God. Those who continue in the following sins shall not inherit the Kingdom of Heaven:

Do you not know that the unrighteous will not inherit the kingdom of God? Do not be deceived. Neither
fornicators, nor idolaters, nor adulterers, nor homosexuals, nor sodomites, nor thieves, nor covetous, nor drunkards, nor revilers, nor extortioners will inherit the kingdom of God. 1 Corinthians 6:9-10

My State driver license doesn't expire for another year. Am I still obligated until it expires?

No, a driver license is not a contract. It is an obligation or requirement of a State resident. Once you give up residency in a State, you are no longer obligated to carry that State's license.

As an example, if you change your residency from California to Maine, the California driver license is void as soon as you become a resident of Maine. The State of Maine will probably grant you a grace period of 30 days to comply with their residency requirements.

When you become a resident or citizen of Heaven, the same thing is true. The driver license issued by a government of the world is immediately void and your grant of permission to use a vehicle on the highways in the Kingdom of Heaven is granted by the State of Heaven. All residents of Heaven are granted the privilege of driving upon the highway to preach the gospel of our Lord Jesus Christ, whether or not documents are issued. (See Heaven Vehicle Code, Section 5:1).

What do I do with my State driver license and vehicle Certificate of Title?

When you request a Kingdom of Heaven license and vehicle title, registration and plates, you send the original driver license (if you still have it) to us. We will cancel it and send it back to the State agency where it was issued.

We also cancel the State certificate of title and send it back to the State where it originated. Our letter to them states that the vehicle has been registered with the Kingdom of Heaven. Most States change their records to show that the vehicle is now registered under a "foreign jurisdiction."

How often is the driver license renewed?

A Heaven driver license expires after seven years. By that time most people's appearance changes sufficiently to need a new photo.

What address is used on the driver license?

You have a choice of addresses. You may use your local address or the Embassy of Heaven address, Stayton, Oregon. Using the Church address shows you are under the covering of the Church.

Is obtaining a Heaven driver license another form of bondage?

No. A Heaven driver license is only a tool to help us interface with the world. Since the world thinks we are criminals if we drive without a driver license, we will give them what they want. The Heaven driver license does not impose manmade regulations upon us. It is only evidence that we have bound ourselves to Jesus Christ and His commands.

What do the Kingdom of Heaven documents look like?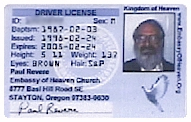 We use professional quality equipment. Reporters have commented that our licenses rival the best of State documents in appearance. The driver license is printed in two colors, with the Embassy seal in the background. The laminated card contains your personal data - eye color, hair color, height, and weight. We don't include birthdate because a physical birthdate means nothing to someone who has been born again into the Kingdom. The license also contains a unique number and dates. Your
signature is electronically transmitted from the request form to the driver license. The card is available with or without your picture. If you do not drive, an identification card is also available.

The vehicle registration plates have machine-embossed numbers across the center of the metal plate and the words "Kingdom of Heaven" centered at the top. A sticker with the Embassy seal and our name and address is attached.

The Certificate of Title and Registration documents contain vehicle identifying information with the Embassy seal in the background. The documents show that the vehicle is property of the Embassy of Heaven. You are listed as the steward for the vehicle.
Continue to Step


(print Request Form and read carefully)
Those wanting an Identification Card, rather than a Driver License, Click here for the Correct Request Form.
Finish with Step